Charlie Munger can be extremely loquacious as he is one who loves to pontificate and definitely has something to say. He also knows when to stay quiet. When he and Warren Buffett hold court at Berkshire Hathaway's annual meeting and a question is asked of Buffett and after answering it he turns to Charlie and asks him if he has anything to add. Munger often responds by saying "I have nothing to add." It always gets a chuckle. It's good to know when you think you can add value and when you can't. When it's the former, say something, and when it's the latter, remain quiet.
Last week was one for the history books in terms of the cataclysmic economic reports that came out showing the utter decimation the U.S. economy is experiencing in the aftermath of COVID-19 and the associated responses to it. Since I'm such a Munger fan I will follow his advice and let the charts do all of the talking as I have nothing to add (ok, maybe a few comments here and there).
I'm sure I will look back on this blog many years down the road as one of the more important historical markers in my business career.
All of the jobs created since the end of the Great Recession have now been lost.
Not surprisingly, the outlook is pretty grim economically.
We're approaching Great Depression levels in terms of unemployment, although the government response has been much more swift now as compared to then so the situation is not as dire since trillions of dollars are flowing back to individuals and businesses to create a bridge to what hopefully is a more "normal" future. My concern is that we are now in the "New Abnormal."
Small business confidence has understandably collapsed.
I can unequivocally state that Twitter is now my best source of information and catalyst for insights. I'm hooked. I thought this tweet is a powerful representation of the collapse in the circulation of people.
Banks are preparing for a big increase in loan defaults and losses.
The economic carnage has pushed interest rates to record low levels.
Global deficits are exploding, similar to 2008-2009.
Despite this, the demand for Treasuries is expected to exceed the supply due to Federal Reserve purchases.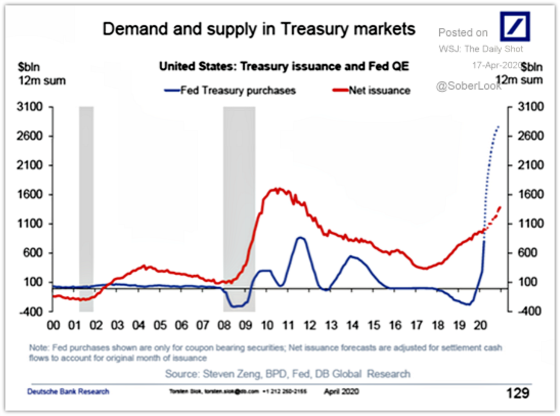 On the international front, China has experienced its first drop in GDP in decades.
The one bright spot, similar to the United States, particularly when it comes to Amazon, is e-commerce. It's already been gaining market share very rapidly and will only do so more now that people have been forced to rely on it more than ever as a result of sheltering in place. This has introduced more people to shopping online and I have no doubt that most of them will remain online customers for life.
The collapse in economic activity, particularly in China, has led to a dramatic reduction in the consumption of hydrocarbons and resulted in a significant drop in carbon dioxide emissions.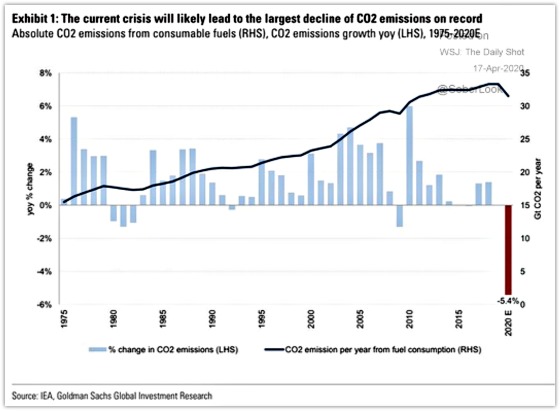 The next couple of charts show how demand has collapsed for oil and supply to the market has dropped commensurately.
With the collapse in economic activity, particularly in China, commodity prices have gotten crushed.
Finally, here are a couple of charts showing how cheap gold is relative to oil (or expensive gold is relative to oil) as well as the S&P 500 relative to 10-year Treasury yields.
Stay safe.