Last week was one of leisure travel which is something I haven't done in a while. The tail end of the trip included a stay in Newport, Rhode Island. It just so happened that Dead & Company was playing about an hour north in Mansfield, MA at the Xfinity Center. I always enjoy seeing bands that I love in venues outside of my normal milieu of Southern California so I made sure to take advantage of the opportunity to see Dead & Company.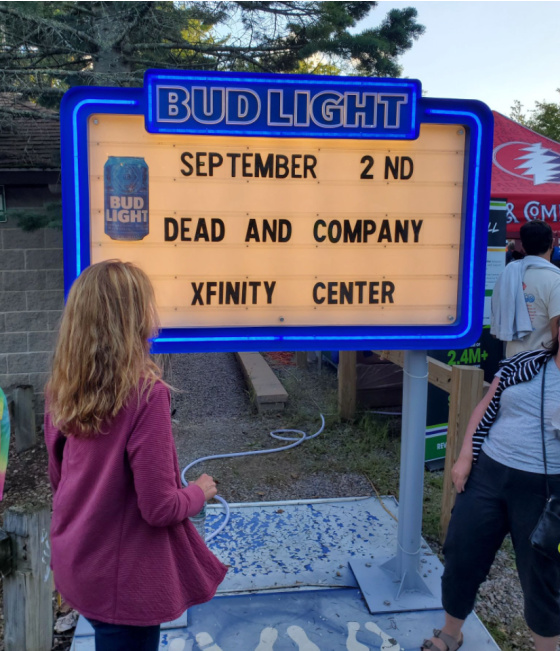 Covid-19 Protocols
I thought I would share a few observations. First of all, it was great being in a large, communal setting to see music that I love and has been so integral to my life. Was I worried about Covid? Not really, although of course being in a large crowd added to the risk, somewhat mitigated by being outside. Did the venue have a Covid policy? Yes, it did.  Everyone entering had to show evidence of being fully vaccinated or a negative Covid test within the last 48 hours. Rapid testing was available on site for approximately $40. With that being said no one was asked to match their vaccination or testing results with an I.D. so it is very possible that there were some people who gamed the system and used other people's vaccination cards or negative test results to get in the show.  California seems to be ahead of the curve in terms of providing digital verification of vaccinations. When I showed mine the person looking at it was surprised to see it on my phone and commented how cool it was.
I took the following picture of a couple wearing masks but they were by far in the minority. 
Bob Weir
The band was in great form and one can see how John Mayer has really made his presence felt even though he very much takes a background role on stage. I also love how confident and comfortable he feels in the band now as evidenced by his wearing a t-shirt that says Sob Rock Universe which is clearly promoting his new album. In years past he kept his solo career very much separate from Dead & Company. Now he is using Dead & Company to subtly promote his new album. I love his confidence. He's also wearing headphones now which I think is to protect his hearing. Good for him as he is intent on playing the long game of life and performing and both will be significantly impacted if he loses his hearing. This dovetails well into the main part of this blog post, which Is Bob Weir and his tremendous commitment to fitness.
This is Bob Weir, who will be 74 in October. As an aside, he and John Mayer share the same birthday, although 30 years apart.
The band played for three hours and Bob sounded great and was high energy throughout the entire show.  Weir was always the most energetic and lively performer in the Grateful Dead. And while he worked out while in the band he also counteracted the work he put into his health with other sub-optimal choices. He drank more than what was healthy and his thousands upon thousands of hours of playing guitar left him with shoulder problems that caused him excruciating pain that he tried to fight with opiates. Unfortunately, the painkillers fought him more than his shoulder pain. His calling is to play live music and he knew he had some tough choices to make if he wanted to play with energy and strength into his 70s and beyond. This purpose fueled his engine and he made a commitment to do what was necessary to regain his health and to heal his shoulder problems. The results have been astounding. This is a headline from an interview Weir did a couple of years ago with Men's Health. 
Here's a picture showing him lifting a medicine ball and how chiseled he is. He's only gotten stronger since from what I can observe.
I too want to live with vigor and vitality well into my 80s and beyond so I find it helpful to learn from someone like Bob Weir who is still pursuing his art with such success and energy as he approaches his mid-70s. Weir's belief is that people need three things to keep moving forward in life. The first is to dedicate your life to the pursuit of a sense of purpose as well as to meditate and work out. While he is not one to evangelize as he very much believes in personal choice, he has no problem talking about the benefits of working out for him.
But he's starting to see the power of the mission now. "This is something guys my age can do, and it will make an immense difference in what they call your golden years if grace and happiness are goals of yours." Other than a little arthritis, he feels good these days. "I remember looking in the mirror in my 20s and thinking, Holy [sh*&t]. I'm ripped! That was probably the peak of it. I'm getting to a place now where I'm rivaling that. I'm pretty happy with what I've got going now."
Not many of us can honestly say that we are in a place where we look and feel almost as good as we did in our twenties. Let alone even better. His general goal, which is a very simple but powerful one, is to have gas in the tank after each show. This not only means that he has to be in good enough shape to handle the rigors of the road and practice, which are challenging enough, but to then have the strength, endurance, pain-free exertion, conditioning, and mental fortitude to make it through very taxing three hours or so shows separated by a 30 to 45-minute intermission. This is not easy, especially when you are standing up the entire time you're performing. 
As the following picture shows, Weir has made sure that he has the equipment he needs to be able to exercise on the road. This is vital. One has to build a system and follow it rigorously, especially as one gets older if one wants to live with vigor and vitality. This is how seriously Weir takes his commitment to working out.
AT MY AGE, if you let it go, it ain't coming back" was one of the first things Bob said to me in Virginia. "I have a lot of stuff I want to get to. And I gotta [f*&in'] live to do it." So if he's gonna live—really live—he has to double down on his workouts, adopt new practices, meet new people. 
I am intent on continually reminding myself of what Weir says about not letting myself go. And while I'm not his age I can see how harmful it can be for those his age or older who don't stay in the health and fitness game. I have observed some older people who have kept up their healthy habits are the ones who have the discipline, mindset, and mental strength to do what is necessary to help them get better when inevitable health issues materialize, whereas those who don't are weighed down by their aches and pains and problems and they tend to regress. I have to keep focusing on my health and wellbeing today so that I lessen the probability of problems arising down the road and when they inevitably do manifest themselves, I'm prepared to tackle them. 
And when health and fitness are such a high priority as it is for Weir, then he will see the world through that prism and have a mindset and curiosity to be continuously learning and experimenting. Hence one of his purposes for doing the interview.
And do this story. "One of my goals for this interview is to open some communication with your outfit," he said in his dressing room after the show. Turns out he wasn't making small talk. Bob sent me a text one Monday afternoon a few weeks after the interview, a list of stuff he wants to try: Bob wants to get into underwater workouts. "I saw a video clip of a guy working out underwater; he took a kettlebell from the bottom of a squat position and powered into a backflip and came back around to the squat. I wanna do stuff like that." And more mace techniques. And yoga trapeze.
The interview ends with Weir reflecting on how when he played linebacker in high school he rushed the quarterback and caused a fumble that he only realized he recovered after regaining his awareness after being knocked out for a few seconds from the weight of numerous bodies on him. This is what he says about that experience. Oh, and by the way don't ever get complacent and rest on one's laurels.
"The moment comes back every now and again," Bob says. "It's that thrill of grace that travels up your spine whenever you're doing things right." You could be playing football. You could be quarterbacking onstage. You could be doing intervals up the ass-end of an amphitheater. You could be getting your ankles doctored by a Shoshone healer. You could be doing the stepper at a hotel gym. But fitness leads to magic. That day in '62, Bob trotted off the field after the play to recover, to soak in the glory. As he got to the sideline, his coach looked at him and said, "Weir! Get the [f] back out there! You're on offense!"
And that's where he's stayed: on offense. He's still playing. He never came out of the game.
In my own little world, I have found that I love playing tennis so much because in no other aspect of my life can I tap into my will and determination with such immediacy as when I am using all of my effort to chase down a ball to get the shot over the net. I love having the ability to anticipate where the ball is going, react to it, and to be in good enough shape, combined with mental fortitude, to do whatever is necessary (without taking too much risk) to do to go after the ball and to try not only to save the point but to win it as well. Like John Mayer and wearing headphones to protect his hearing, I will go after the ball hard and with intention but I will not risk injury to do so. I want to stay in the game (on the court) for many years to come so it's important I play the long game. No one point is worth taking undue risk.
After having taken up tennis and getting over the hump of my February 2021 heart surgery, health and wellbeing have become even more important to me. I want to play tennis competently and vigorously well into my 80s (and beyond if possible). Like Weir, I want to have gas in the tank after every match. Recently I have been giving a lot of thought about articulating these aspirations in words and this is my current working draft:
To live with great vigor and vitality in ways that optimize my health and grow my wealth.
And, as I discussed in my book, wealth goes far beyond the financial realm. It encompasses having a vast reservoir of resources (financial, relationships, health, wisdom, judgment, courage, humor, pattern recognition, a capacity for awe, wonder, and surprise, etc.) to pursue my calling, to recover from setbacks (resilience), to enrich my life with experiences and relationships, and to live as pain-free as possible from a physical standpoint so that I can live life with joy, determination, and purpose. I want to be vital which means I want to be of value to others. I want my presence to be felt while I'm alive and even when I'm not.
I'll sign off by citing some of the lyrics from one of the songs they played at the show, The Wheel, to show the importance of incremental improvement and perseverance which are very relevant to the messages of this blog post.
Won't you try just a little bit harder,

Couldn't you try just a little bit more?

Won't you try just a little bit harder,

Couldn't you try just a little bit more?

Round, round-robin run round, got to get back to where you belong,

Little bit harder, just a little bit more,

A little bit further than you gone before.

The wheel is turning and you can't slow down,

You can't let go and you can't hold on,

You can't go back and you can't stand still,

If the thunder don't get you then the lightning will.

Small wheel turn by the fire and rod,

Big wheel turn by the grace of God,

Every time that wheel turn 'round,

Bound to cover just a little more ground.