Preface: This turned out far longer than I was expecting but so it goes.
One of the more profound lyrics of the Grateful Dead is "Once in a while you can get shown the light in the strangest of places if you look at it right." That has played out throughout much of my life with epiphanies and insights from unexpected sources that have altered my path, mostly in favorable ways. It did so once again very recently, although it's too early to tell how it will play out. Ironically, it was at a concert put on by the former bass player of the Grateful Dead, Phil Lesh. It took place at Stanford University at the Frost Amphitheater, which is a place that I have always wanted to go to as I've heard such great things about it. The Dead played there 14 times so it is somewhat iconic for Deadheads. 
It takes on even more meaning as it's in Palo Alto, not only the birthplace of the Silicon Valley and venture capital, but it's also legendary in the Dead's history as it was there that Bob Weir met Jerry Garcia. This is how the meeting was recalled by Weir.
On New Year's Eve 1963, Garcia had met 15-year-old Bob Weir, future Grateful Dead guitarist, who later described the fortuitous encounter: "I was wandering the back streets of Palo Alto with a friend when we heard banjo music coming from the back of a music store….It was Garcia waiting for his pupils, unmindful it was New Year's Eve.  We sat down and started jamming and had a great old rave.  I had my guitar with me and we played a little and decided to start a jug band." 
Stanford is a beautiful campus and the amphitheater is a great place to see concerts. It was a glorious night in the Bay Area and the venue was sold out with many people looking for tickets, or as they often post on their signs "I Need A Miracle", which is the name of a Dead tune.
Phil's band is called Phil Lesh and Friends. It was Phil's first time playing there in 20 years and you could feel a very special vibe with his return. The previous month, Bob Weir and Mickey Hart, one of the Dead's drummers, had their respective bands play there in a double bill so the venue has been very Dead-centric recently. One has to hand it to Phil as he is still rocking it at 82 years old and playing shows that go for nearly three hours. 
The concert was excellent, which isn't surprising, as he had a tremendous group of musicians collaborate with him. He had the keyboardist from Tom Petty and the Heartbreakers, Benmont Tench, as well as two great guitarists, one of whom played with Miles Davis (John Scofield) and the other is a virtuoso in his own right (Scott Metzger). The drummer was Joe Russo, famous for being a founder of probably the premier Dead cover band, Joe Russo's Almost Dead (JRAD), of which Metzger is also a member. 
The band also included Phil's son Grahame on guitar and vocals. Phil and Grahame have played together many times over the years. I can only imagine how incredibly satisfying it must be for him to be able to play music with his son, especially into his 80s. I remember going to Grateful Dead concerts in the 1980s and on the screen would be Phil's wife with their baby Grahame, who is now a graduate of Stanford, a very accomplished musician in his own right, and one of the founders and leaders of the band Midnight North which I highly recommend you listen to. 
Grahame is in the middle in the red shirt and Phil is next to him, second from the right.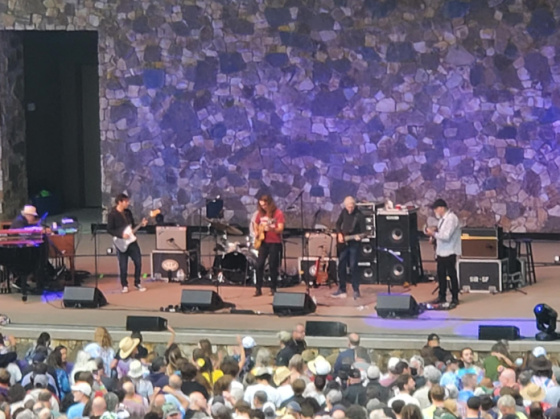 It was general admission seating so it was every man and woman for themselves. We plopped down on our blankets and found our place to settle in for the evening. Very close to me was a woman that had a bunch of tattoos. Somehow my eye caught one of them that was on her wrist and it said "So it goes". For some reason, it really hit me after reading that phrase as it conjured up a lot of thoughts and memories related to reading Slaughterhouse-Five by Kurt Vonnegut, a novel that he worked on for 23 years. It was published in 1969 to great acclaim and success. It is one of my favorite books by one of my favorite authors. Throughout the story, that phrase was very famously used whenever he mentioned death in any form or fashion. Anytime someone died he always followed up with "So it goes."
Vonnegut was a German POW. He miraculously survived the bombing of Dresden at the end of World War II by being imprisoned in an underground meat locker. When he emerged to see the apocalypse that had befallen the city he was shaken to his core and for the rest of his life, he was a pacifist as a result of that as well as for other horrific aspects of war that he experienced. It was the seminal event of his life in many ways. An estimated 25,000 people were killed during three days of bombings by the United States and British air forces along with a tremendous amount of property destruction.
Here is how one writer described what Vonnegut saw when he emerged from underground.
What Vonnegut did see when it was safe to come out was surely quite enough to make him wish he had stayed inside—perhaps forever. Most famously fictionalized in Slaughterhouse-Five, and then corroborated in other texts—essay, lecture, memoir—this was the part he lived through in the days of aftermath, the part he would carry with him for the rest of his life. This was the part about corpses on the ground, with sublimated skeletons, reduced to little, brown, charred bundles—a vision grimly authenticated by photo illustrations in W.G. Sebald's Natural History of Destruction, a controversial account of the bombings written from the German side; or, in the alternative, of entire families in basements and groups in shelters killed with bodies completely intact, victims of instant concussion or suffocation. The point is bodies—bodies everywhere. 
I can only imagine how traumatic it must have been to have emerged to see such death and destruction and to come to terms with having survived it. So how did he deal with it? So it goes. It's a very powerful phrase in that it conjures up the contradictory feelings of resignation and defiance. It can either lead one to bleak acceptance on one extreme and on the other almost flip off death with a giant middle finger. It reminds me of what Bono of U2 said in the aftermath of what he said was a near-death experience for him.
"I mean the thing that experience has taught me, above all else, is the primacy of fun and frolics and devilment and mischief and joy as a defiant act against our mortality, and that brings us back to rock 'n' roll. That's where U2 came from."
On the one hand, death is of course an integral part of life as everything here is impermanent. Our demise is inevitable and that's just the way it is. On the other hand, knowing this, it takes courage to choose life in spite of knowing full well that it is temporary. For most people, it's the short time we have that gives it meaning. For others, it can be a source of great despair. 
I think courage is one of the most important attributes one can have and strengthen and it is a must if we are to find meaning and have reservoirs of strength to soldier on in the face of our knowing everything comes to an end.
Click To Tweet
So what is courage? I like what Paul Tillich wrote about it in The Courage To Be.
Courage does what is to be praised and rejects what is to be despised.Click To Tweet
One praises that in which a being fulfills its potentialities or actualizes its perfections. Courage is the affirmation of one's essential nature, one's inner aim or entelechy, but it is an affirmation which has in itself the character of "in spite of."
In any case, it is praiseworthy, because in the act of courage the most essential part of our being prevails against the less essential. It is the beauty and goodness of courage that the good and the beautiful are actualized in it. Therefore it is noble.
This situation is classically expressed in Thomas Aquinas' doctrine of courage. Thomas realizes and discusses the duality in the meaning of courage. Courage is strength of mind, capable of conquering whatever threatens the attainment of the highest good.
I have been thinking about "So it goes" in other aspects of life beyond existential concerns. And, naturally, I brought it to the tennis court to see if it can help with my periodic flair-ups of anger and disappointment when I don't play well or react negatively to missed shots or poor decisions. I also thought about it in the context of business. 
First tennis. I decided to see how I would feel after each shot, good or bad if I said "So it goes." I found that it helped but what I found to be even a better way of defusing my upset was if I modified it to "And so it goes." It's a subtle difference that I find hard to articulate but adding the "And" made it a little more theatrical and whimsical for me versus the more ho-hum and fatalistic that "So it goes" feels to me.
I truly have to accept that I can only control my preparation, anticipation, decision-making, execution, and emotional reaction on the court (and in life I suppose) whereas everything else is pretty much out of my control. It's like I'm in this unfolding movie of my life while competing that requires a lot of improvisation and yet I can also lay out a vision for how I want the scenes to play out. And, like on all sets, it's quite typical to have to do multiple takes to capture the director's vision. And while we can't completely divorce ourselves from the previous takes, we don't want to be stuck in the past. We want the past to help inform the present and direction of the future, but not wallow in it. We need to learn from it and then move on.
What I tried to do after playing difficult points was to take a step back and view myself as the director of my own film in which the action takes place on the court and I have to come to terms with knowing I will rarely capture the perfect scene with every point. Retakes will always be necessary. And while I can't replay the point, which is something I have to accept, I can help design the next one by setting up the subsequent scene. 
As a result, what I did was, prior to serving, I would first say to myself, no matter what happened, "And so it goes" in a somewhat whimsical, fatalistic way to bring closure to the immediate past and then I would tune into my inner director and think about ways to get a better performance out of the actors and crew (all me) and then say to myself "Quiet on the set. And…Action." This helped me to bring my full attention and focus to the next point and not get bogged down in the previous scene and accept the very real possibility that this next scene will have to be reshot as well since it may not go according to plan. And to think all of that probably takes place in about 10 seconds. Pretty crazy I know but as John Lennon said, "Whatever gets you through the night is alright" Or whatever gets me through a match.
Since life isn't fully lived on a tennis court for most people then how does this (And) So it Goes approach work off of it? I think it's very applicable. If someone cuts you off in traffic or says something that you may find upsetting, you may find it helpful to take a deep breath before reacting and say "(And) so it goes." You'll probably find that it will defuse your emotions and help prevent you from saying or doing something you might soon regret.
And when it comes to business I know at CWS we're reliant on variable rate loans which opens us up to interest rate risk. Over the years we have been extremely well compensated by exposing ourselves to this risk via lower average rates versus had we locked into fixed rates as well as incurring far less in prepayment penalties. 
We're also not naive and know that there will be times when having floating-rate debt can be painful, which we expect to be the case over the next year or so. Rather than get angry and upset over it, we have actually been understatedly adopting somewhat of a So it Goes philosophy because we always knew there would be times when this strategy would cause us angst and consternation as rates would inevitably rise. But it was in knowing this and always being cognizant of the downside that we made every effort to procure financing with the lowest spreads, long interest-only periods, and minimum terms of seven years, with most being 10, while making sure to not take on too much debt such that it would have us risk losing properties or producing negative cash flow.
The ability to adopt a "So it goes" philosophy comes from being prepared in life and being humble knowing we can always be wrong, make mistakes, and we don't have perfect information so we better have margins of safety so we're never backed in a corner or locked into one path.
Click To Tweet
So here is my epiphany after completing this long philosophical diatribe stimulated by noticing a tattoo on a woman's arm at a concert in Palo Alto. The ability to adopt a "So it goes" philosophy comes from being prepared in life and being humble knowing we can always be wrong, make mistakes, and we don't have perfect information so we better have margins of safety so we're never backed in a corner or locked into one path. 
Death is inevitable. It's part of life. It happens, it's terribly painful (as I well know), and yet it's the temporary nature of everything that can give it so much meaning, depth, and joy. Be prepared for it by always having your affairs in order and living fully and joyfully and not shying away from love and taking risks that cultivate growth and courage. Leave everything on the court when the game comes to an end. The world will be better for it. We can accept mortality and still use it to motivate us to take the courageous path of always choosing life.
On a more personal, micro-level I can use it on the court because I have been working at improving my game so that I have a level of competence to compete and yet I realize that I have so much more ground to gain that I'm just trying to improve incrementally or, in the words of another Grateful Dead song,
A little bit harder
Just a little bit more
A little bit further than you've gone before
I lost a point or made a dumb decision. So it goes. I have the tools to improve on the court so I can do better on the next point. And if it's not my day, then so it goes. I can use what I learn from losing to work harder in practice so that I improve my chances in the future. 
And because we have been so well prepared at CWS for higher interest rates based on the knowledge that over the long-term it has been very profitable to choose variable rate loans over fixed-rate ones, we also know that this has not always been the case. As a result, it's imperative that we do our best to ensure that we are always on the playing field, even if we're wrong. With rates moving higher our cash flow will without question be negatively impacted. And yet, I can honestly end this very long post with a level of serenity knowing that this is an integral part of the continuum of our CWS business journey which I think will ultimately offer more opportunities than threats.
(And) So it goes.