Barcelona has been on my bucket list. I was heading to Europe for another reason but decided to tack on visiting the city to the beginning of my trip. I flew through Istanbul and since I'm a big fan of naps I thought I would take this picture to show my support for this activity (or inactivity). As an aside, the Turkish Airlines lounge has got to be one of the nicest airport lounges in the world.
I'm always fascinated by the destinations other travelers are going to when in foreign airports, particularly those locales where very few Americans fly to. This one is located in Iran and is one of the holiest cities in the country.
I stayed at the W Hotel which was pretty hip. After I checked in I received a ticket for a complimentary shot at the club on the top floor. It closes at 3:00 a.m. I went up there to take advantage of my free shot, clearly realized I was out of place and left 10 minutes later. At least I gave it a shot (pun intended).
I had someone take my picture while waiting out in front of the hotel. I didn't want to deprive the readers of such a great shot of me.
This was my room number. I must say this was a good omen because in Judaism the number 18 is considered to be lucky so to have it twice was a great sign.
This is a view of the beach and part of the city from the 18th floor by the elevator.
Since I got in very late the first night I relaxed for the first day. I hung out by the pool for a couple of hours and saw some of the beautiful people visiting Barcelona. I loved how this guy brought his hooka to the pool and started going to town on it.
Barcelona Beautiful People
I wanted to get a picture of the infinity pool and the beach in the background. I kept waiting for there to be an opportunity for it to be unobstructed but I could never find such a moment. I finally ran out of time and had to take it with these two girls obstructing the view. I apologize for that.
When this guy saw me he said we could be brothers. It's obvious why. Another of the beautiful people in Barcelona.
The waitress at the pool came up to this woman and said people were asking about her and if she was a model. She said she modeled 10 years ago. Lucky me to be positioned so close to someone so attention-getting. Location, location, location. Another of the beautiful people in Barcelona.
After being inundated with endless numbers of beautiful people this is where I felt I needed to spend some time.
It was nice to see a happy couple. And while they were posing for a photographer they still looked happy. And kind of beautiful too.
I think this was the only bimbo I saw in Barcelona.
I'm rather proud of this shot capturing the sun emanating from the city's most famous cathedral.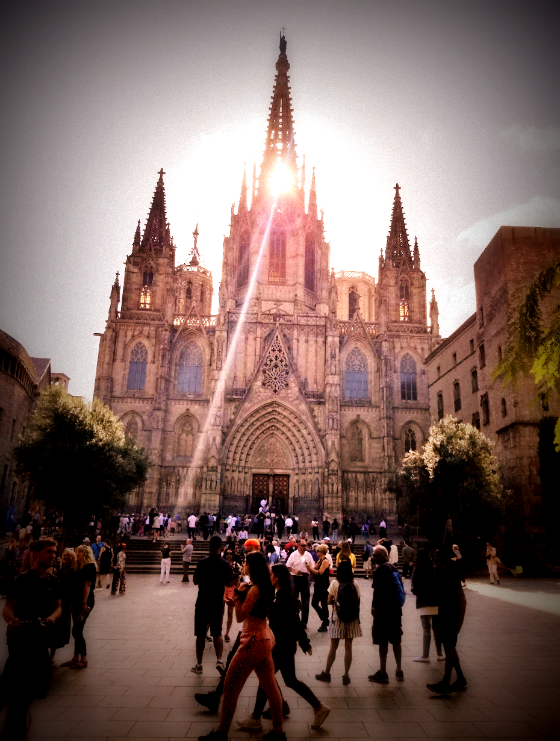 Another of the beautiful people posing at the cathedral.
This is the famous hospital of Barcelona built over 30 years in the early 1900s. This barely scratches the surface as it's a city within a city. It's amazing how many buildings there are behind this one. The architecture is quite impressive.
Barcelona Museums
I have a profound weakness for chocolate so I had to take a picture of this.
In the courtyard of one of the museums, there are numerous expressions written in Catalan. I needed to use Google Translate to get to the essence of this. This one says something to the effect of:
It is worthwhile to make an effort to cleanse ourselves from sins and vices versus waiting for the sting of death.
I would contend this is pretty good advice.
More down to earth advice in English.
Here is me getting in touch with my feminist side at the same museum as referenced above.
Here's your basic decapitation scene depicted on one of the walls at the same museum.
What would a trip to Barcelona be without capturing some soccer images? Unfortunately, F.C. Barcelona was out of town when I was there so I couldn't go to a game.
Barcelona Soccer
Barcelona Rosh Hashanah
It was Rosh Hashanah, the Jewish New Year when I was there. I went to a synagogue for services and afterward there was a dinner for approximately 250 people. I noticed one of the servers had letters on each of her knuckles. After I read what they were I asked her if I could take a picture. This is a real fan (pun intended).
Here is the dinner with which we were blessed.
Including this guy. Rather tasty I must say.
Another testament to faith. And while she wasn't at my table…
This man was. There are many ways to express one's devotion to their maker.
Here I am in front of what my tour guide says is the oldest synagogue in the world. It's most likely from the 4th century.
Here is my tour guide on the roof of one of Gaudi's homes. He was the most famous architect in Barcelona. Unfortunately, I took the picture with the cable to my charger in view. Oh well. Gaudi was a great recycler of material and he was showing how he was able to create a work of art out of broken pieces of porcelain that he saved.
I had a great time in Barcelona and highly recommend that you visit there if you have the chance.