My international travels were scheduled to come to an end yesterday. I'm writing this prior to my arrival and assuming that there will be no delays in my return. It was a packed adventure that ended in Israel after visiting Dubai, Abu Dhabi, and Zambia via Lusaka, Chanyanya, and Victoria Falls. It also included a four-hour tour of Johannesburg which I was able to do since I had a seven-hour layover there en route to Israel. I was concerned that I might have to be quarantined in Israel for 14 days but I made it under the deadline for foreigners arriving in Israel by three days. The Israeli airline, El Al, put 80% of its employees on unpaid leave, showing how devastating the curtailment of air travel has been as a result of the coronavirus. As of this writing, my flight has not been canceled due to a lack of demand or labor to service the route.
Given my travels, I don't have the time to revisit the topic of the coronavirus and its devastating impact on the global economy and financial markets. This is something I will have to refocus on after my return.
In an effort to shift the focus to something more positive and beautiful, I thought I would share photos of my visit to Victoria Falls, one of the Seven Natural Wonders of the World. It is truly a spectacular experience and one I highly recommend.
Prior to doing that, however, I thought I would borrow from a Facebook post from the founder of the NGO that I wrote about last week that developed the Roneet Carmell Agricultural Training Center in Zambia to further elucidate the reasons for building such a center and what the goals are for it and the associated work. The response to last week's post was very favorable so I thought that a follow up with more details of the project would be welcomed.
This is what Micha Odenheimer wrote.
This is our new training farm in Chanyanya, Zambia, which we just opened on Wednesday, and dedicated to the memory of Roneet Carmell, whose loving husband Gary honored us with his presence right here in Zambia. The training center is a central part of our project in Chanyanya, where hundreds of subsistence farmers live. They are totally dependent on rain, which has been unreliable now for the past few years, but simple irrigation systems can go a long way towards solving that. They also need knowledge of best practices–what you see here in the video is our first training in how best to plant and fertilize okra. They also need finance–what we would consider tiny sums make a huge difference in their ability to get the inputs they need to grow. And they need access to market, timely transport of what they grow, and an understanding of when it's good to grow what in order to turn their hard work into enough profit to pay for school for their children and health care when they are sick. Through the training center, through our dedicated staff–including Mr. Bright, our agronomist, who you see in the bright green Tevel T-shirt if you turn on the video, we can catalyze all of that, and help the whole community work together for the benefit of all. The training center will do outreach to the larger community of some 80,000 souls in the Kafue region, and also in reach to the collective farms we are organizing to help demonstrate and teach best practices and new Israeli technology. Shout out to Aia Khalaily, our Zambia coordinator, and Tal Cohen, our Project Manager for the amazing work they have done to get us to this point. 
Victoria Falls Zambia
And now to my journey to Victoria Falls. In some ways, it felt like observing the collapse of the financial markets that took place while I was gone. I looked out on both with awe and wonder, although Victoria Falls was breathtaking and brought me immense joy while the collapse of the financial markets elicited more of a numb acceptance of what was happening as it was taking me over the falls with it, while with the former I was just an awestruck observer.
Here is the first glimpse of the falls when you start down the path on the Zambian side. Across the way is Zimbabwe, which I did not go to but could see.

This is me before getting to the part of the falls where you get soaking wet.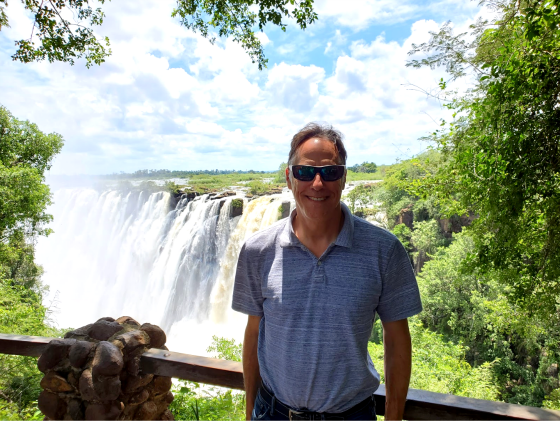 Here is another view.
Here is a breathtaking view and depicts how powerful the experience is when taking it in from so close to the falls.
Obviously I'm enjoying the falls in the area where there is a lot of precipitation. I loved every minute of it though.
After the falls I proceeded to go to a different part of the park so I could hike down to what is known as the Boiling Pot. On the way there and on the trail I came across baboons.
Here are two of them grooming each other. They were so captivating to watch that I could have stayed there for hours doing so.
Notice the baby in the middle of these two. Watching the baby trying to walk and climb and stumble and fall was such a treat that words can't do it justice. Fortunately, I captured a lot of it on video and that will be something I will always treasure.
This bridge was built by the British and was completed in 1905 and connects Zimbabwe with Zambia, or what was formerly known as Northern and Southern Rhodesia. This is a view from the hiking trail to and from the Boiling Pot.
This is a sign on the trail and I could not make any sense of it, which is what inspired me to take a picture of it. I can somehow envision a Phish song incorporating these words as lyrics.
After viewing the falls I did a two-hour game ride and was able to view white rhinos (they're called white rhinos because of their mouths) from a fairly close range from outside of the jeep. It did get a little dicey as they were starting to get aggressive and wanting to approach us. Fortunately, the rangers know them very well and were able to get them to back off.

The person I was traveling with had the brilliant insight the next morning to go back to the falls as she thought with the sunshine there may be rainbows present. Plus, we wanted to get some exercise and figured that hiking the Boiling Pot trail would be much more satisfying and a better workout than going to the gym. I must hand it to her as her intuition was spot on as the following pictures show.
This next picture is from an upstream vantage point.
We not only got to see one rainbow, but two were present from other points of view.
As you can see here, I was one happy camper to be in the midst of such beauty and power. It was truly awe-inspiring. The pot of gold for me was just being able to experience Victoria Falls.
I was not immune to what was going on with the coronavirus and how it was decimating financial markets and leading to unprecedented decisions by governments around the world to curtail people congregating and circulating. Israel was taking very aggressive steps to counteract the spreading of the virus and the tour guide who was taking us around the country was getting message after message canceling future engagements. He was a microcosm of the financial impact of those who work in the travel and tourism industries.
After I return, I expect more financial fireworks to continue as investors are now pricing in a greater than 67% chance that the Fed cuts short-term rates by one percent at its March 18th meeting as this graph from March 12th shows.
Source: CME Group
UPDATE: Sunday, March 15, 2020, The Federal Reserve slashed interest rates to zero in massive emergency intervention for the U.S. economy. FOMC statement.
Please stay safe. Wash your hands with soap per CDC guidelines for at least 20 seconds, avoid large gatherings, and greet people with a namaste instead of shaking hands.